Name: Shadow Shopper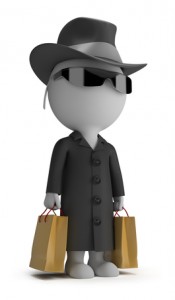 Cost: $4.95 for a 7 Day Trial Then $29.95 is Charged
$39.95 for 3 Months & $99.95 for 1 Year
Website: www.shadowshopper.com
Rating: [s3r star=1/5] 1/5 Stars
What is Shadow Shopper?
Shadow Shopper is a website that matches mystery shoppers with companies. Mystery shopping companies that are seeking mystery or secret shoppers post their jobs on Shadow Shopper. Think of them as a job board like "Craig's List" or "Monster.com." Is Shadow Shopper legit? In my opinion, Shadow shopper is a  borderline scam.
Read about how to avoid mystery shopper scams here.
It's not a crime to charge people for information, but what Shadow Shopper offers you is confusing and somewhat misleading. You can't see the company names or apply for a mystery shopper job unless you pay a fee. If you do decide to join Shadow Shopper, just be careful as you will be automatically billed $29.95 after 7 days if you don't cancel.
What is Mystery Shopping?
Mystery shopping is used to measure the quality of customer service of a particular store, restaurant, office etc. The mystery shopper will pose as a customer, critique that business's service, cleanliness, products etc, and then submit a report to the company. It's called mystery shopping because the company being critiqued doesn't know the mystery shopper isn't just a typical customer.
How Much Can Mystery Shoppers Earn?
Mystery shopping is not a reliable source of full-time income. If you are a good shopper and can find good jobs, you can earn approximately $5 to $20 a job. Some jobs may more. You can also be reimbursed with free meals or other free items.
Possible Requirements
Not all companies will have the following requirements, but most of them will at least require you to have Internet access and an email account.
Cell phone.

Internet access.
Email account.
Digital camera.
Fax machine.
What Shadow Shopper Offers You
Certification courses. 

Mystery shopping tips.
A list of companies seeking mystery shoppers.
Membership
Shadow Shopper offers Bronze and Gold Membership. To the right, you can see what you get with each type of membership. Bronze is a free membership. All that you can do for free is fill out a profile, read the "Shopper Education" articles, take certification tests, set up your job email notifications, receive job summary emails, and be able to use the "Refer a Friend" program.
If you read the fine print, Shadow Shopper states that the Free Bronze Membership "does not include the ability to apply for jobs through our job board." (You can see some currently available jobs by clicking on "Available Jobs" at the top of the page).
Read the available jobs by Clicking Here.
Gold membership starts out at $4.95 for the 7 day trial, $39.95 for a 3 month membership and $99.95 for a 1 year membership. Membership fees are non refundable, but Shadow Shopper invites you to contact their billing department if you have an issue.
To get access to the certification courses, you don't need to pay, but you do need to join Shadow Shopper by creating an account first. You really get no real job information about unless you pay first. It makes me wary when companies charge for information you can find for free elsewhere.
I strive to post fair reviews, so let me say a couple of things that I did like. I liked the live chat assistance that I received. The chat agent was friendly and fast. I liked reading "Mystery Shop 101." Click Here to read the page.
Shadow Shopper is not all bad, but the bad points outweigh the good ones.
Check out my how #1 Recommendation compares to Shadow Shopper below.
My Final Thoughts on Shadow Shopper

Shadow Shopper is a borderline scam.  How they work and what they offer is not clearly explained up front. "Bronze Membership" is advertised as free, but it doesn't really offer you any valuable information until you pay a fee first to see the names of mystery shopping companies hiring. That's not free! Having to pay for a list of information that you can get online free, confusing membership levels, and customer complaints about getting refunds, have led me to decide that Shadow Shopper is a borderline scam.
I recommend that you check out www.mysteryshoppersmanual.com or the MSPA (Mystery Shopping Provider's Association) for a free list of companies seeking mystery shoppers.
Thanks for reading, and please leave any comments or questions below. I will reply to them asap. 
Please Share if Content is Useful