Do you want to learn how to start and run a successful online business doing what you love?
Then you're in the right place!
My name's Jen, and I'm glad you're here. I created this website to give you information, hope, tips, and advice about working online. Any job or training that I recommend, I have tried and like it, or am still using myself. This way you can rest assured that it's legitimate.  I'm here to help YOU.
It's a Jungle Out There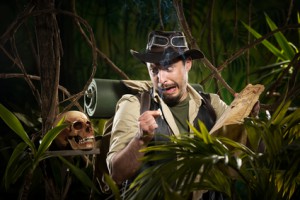 The work online world can be a dangerous place, especially for a newbie. Your money can easily be snatched by Internet Sharks before you can say "I want my money back!"
You may have had the experience of trying to get a refund only to discover that the company gives "no refunds." This policy was probably in the fine print, but hardly anyone ever reads that boring stuff. You may have had some other nasty surprises, like having your credit charged unexpectedly. Some companies won't even have a contact address or phone number, or they'll make it so difficult and frustrating to get your money back, that you'll give up in exasperation.
How I Started
I'd been searching for a legitimate way to work online for a long time. I finally became exhausted by the incredible of scams that are out there. I was about to give up working online when I discovered a $25 dollar blogging program. The owners of this program told their rags to riches story and were very charming. All I had to do to make money like them, was spend $25 and they would set up everything for me…
My intuition kept insisting for me to do my research first and make sure this program was legit. I did the research and decided to not buy the program.
I kept searching for ways to make money online and came across an article that led me to Wealthy Affiliate. That's where I am learning to create a real online business that I own myself. It's so exciting to experience something that actually works, that I have to share it with others.
You Can Relax Here 
This website is here to get you started online and to steer you clear from the scams. Give yourself a break while someone else does the research and helps you know which make money programs/jobs are scams, and which ones are legit.
You can learn from my mistakes, succeed faster, and live your own online dream.
Am I a millionaire or making a full-time living yet? No, but I'm on that path. It feels incredibly awesome to be on the path to financial independence!
Have a question or comment? Then please leave them below. You can also get in touch with me inside of Wealthy Affiliate (link to my profile).
One last thing please don't spend your money on anything that you aren't sure of or feel comfortable about. Use your gut instinct.
Thanks for dropping by and I hope to get the chance to help you!