Name: At Home Income Package
Cost: $97 + Up Sells
Owner: Ethan Anderson
Website:
Rating: [s3r star=0/5] 0/5 Stars
What is At Home Income Package? 
At Home Income Package is a program that says you will make money by copying and posting links. You just post links across the Internet. Sounds simple, right? Think again. You can't really make money doing this, at least not the way that At Home Income Package wants you to believe.
At Home Income Package is formerly known at Home Income Package. Companies that are not legit often change their names because they get shut down. It's not uncommon to see a the same company, under a similar but different name appear. When I wrote the review for this company, the "Home Income Package" domain name was not operating any longer.
What's Included in At Home Income Package?
Free 1 on 1 training consultation.
Training guides and video tutorials.
Automated money making website.
How Does At Home Income Package Work?
At Home Income Package says that your job will be posting links. Posting links is basically affiliate marketing. Affiliate marketing is one way that a company can sell its products or services. When a person signs up with that company and promotes their products or services, they become an "affiliate" with that company. When a customer clicks on the product link or buys the product, the affiliate earns a commission. 
Being an affiliate is not just posting links and setting up an automated website. That's a misrepresentation.
Can You Really Make Money Just by Posting Links?
No, you can't really make money just by posting links. At Home Income Package says that you can, but the reality is that you won't.  This company says you will post links for Google. Google doesn't endorse At Home Income Package, and Google has never, ever paid anyone to post links for them. They have also never paid anyone to work from home for them.
Learn How to Create Your Own Online Business Doing What You Love – Click Here.
Tools & Training
Automated website.
Link posting training.
Data entry training.
There's no such thing as an automated website that makes real money for you. I discovered that there's also no real training. You are mainly just taught how to promote their own program.
Support
If you need to contact customer service, you can email them at the following addresses:
Billing Support: billing@clicksuresupport.com
Product Support: support@athomeincomepackage.com
Getting a Refund from this Company is Complicated!
Their refund policy seems to be a little complicated. First, be aware that they say your payment is not taken for 5 days and that they won't bill your credit card company for 5 days. You have the 5 days to submit a "cancellation request" to their customer service team.
If you cancel within 5 days, your card isn't supposed to be charged. If you cancel after 5 days, you must go through the refund process explained below. Why not offer a free 5 day trial then, without asking for any credit card information first?
If you're interested in checking out a Top Rated Online Business Community that lets you truly try it free for 7 days, without asking for any type of payment information first, visit Wealthy Affiliate.
Refund Process (If You Don't Cancel Within the 5 Day Time Period)
At Home Income Package is a ClickSure product. ClickSure requires that you follow these steps before they will (maybe) give you a refund.
You Must:
Contact their customer service team and ask for help.
Ask for your refund within 60 Days.
Give a valid reason for requesting a refund within the 60 days.
Give a valid report that the charge was fraudulent or unauthorized.
Give any other reason that ClickSure thinks is needed.
There is a link for submitting a cancellation or refund request, but when I clicked on it, it didn't work. It went to the "Not Found" page below. It's probably just a glitch. or is it? It's most likely because the old domain name "Home Income Package" was never updated. Who does business like that?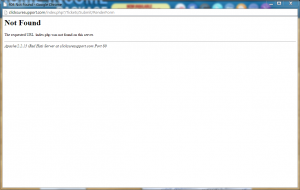 Cool Things About At Home Income Package
Let me think…none.
Not So Cool Things About At Home Income Package
Deceitful Tactics:
Get rich quick attitude.
Fictional mother who claims she earns a lot of money from At Home Income Package.
High pressure sales tactics.
At Home Income Package doesn't clearly state who they are, and where they operate.
Doesn't include full instructions for how to make money with affiliate marketing.
It's not clear what At Home Income Package is really selling.
Using famous logos. (The disclaimer at the bottom of At Home Income Package's page emphasizes that they are "not associated, affiliated, endorsed or sponsored by ClickSure or any other brand shown on their website).  Then why are they using the logos on their own website?

*

Wait, Say That Again…
Check out what At Home Income Package says on their Terms and Conditions page.
3. (Acceptable use)
"You must not use our website in any manner that is unlawful, fraudulent or harmful, or in relation with any illegal, unlawful, fraudulent or harmful purpose or activity; or in any way that causes, or may cause damage to the website or impairment of the availability or accessibility of the website."
Come on, really? At Home Income Package is going to tell others to not do anything that is 'fraudulent, illegal, unlawful or harmful'? That's downright crazy. They're ripping off people doing that very thing. At Home Income Package is a real piece of work!
Look at what they say about the testimonies that they have on their site:
"All testimonies are a result of personal experience or were provided by each individual. They have NOT been verified for accuracy or truthfulness. These testimonies, although believed to be completely accurate, should not be used as an indication or prediction of your results."
Wouldn't you make sure that the testimonies about your company, on your website, were accurate? What kind of company would allow fake people and fake testimonies? Oh right, the companies who scam people.
My Final Thoughts on At Home Income Package

There have been many, many complaints about people not getting a refund from this company and having a hard time getting in contact with customer service. There have also been complaints of rude customer service. Please stay far away from this scam.
Take a look below to see how my #1 Recommendation compares with At Home Income Package.
I would love to hear your thoughts on this scam, so please leave a comment below. Thanks!
Please Share if Content is Useful