Name: Cash Crate
Cost: $0 Unless You Sign Up for Certain Offers/Trials
Url: www.cashcrate.com
Rating: [s3r star=2/5] 3/5 Stars
What is CashCrate?
CashCrate is a company that will pay you to take surveys and fill out offers. Unlike many similar sites, CashCrate is legit.
They also have an affiliate program so you can also make money that way. You can read more about their affiliate program by clicking here: CashCrate Referral Program.
How Do You Earn Money with CashCrate?
You can earn cash and cash rewards with:
Offers
Surveys
Shopping
Referrals
Interaction
How Much Can You Earn with CashCrate?
When you first join, you get a $1 just for signing up. You can make roughly $100 per month by completing the surveys, offers, tasks, etc. The referral program is where you make the real money though.
Is CashCrate a Scam, Like Other Survey Sites?
No, CashCrate isn't a scam, but I wouldn't rely on it to earn dependable income or much income at all. I completed some surveys and was paid little more than a couple of dollars.
One frustrating thing about CashCrate is that you will be in the middle of taking a survey, and at the end of taking it, it will inform you that you aren't eligible for that particular survey. It then re routes you to another survey.
If you have a lot of patience and time, and don't mind doing a lot of work for just some spare change, I would say to go ahead and sign up with CashCrate. Or sign up with their affiliate program if you are interested in earning more money.
How Does CashCrate Pay You?
Earnings for the current month are sent on the 1st or on the 15th of the following month. When you're paid depends on your member status, and the payment method that you have chosen. Keep in mind that you must have a $20 balance before you're paid.
Payment Methods
Check: Checks are mailed to you as soon as possible after the 1st of the month.
PayPal: Payments are sent on the 1st of the month. You must have received and cashed at least one check.
Dwolla: Payments are sent on the 1st of each month. Dwolla is similar to PayPal. You must be a United States resident to use Dwolla.
Direct Deposit: Payments are sent on the 1st. Direct deposit is only available to United States residents and usually takes a few days to show up in your bank account.
There are 3 Ways to Earn with CashCrate's Referral Program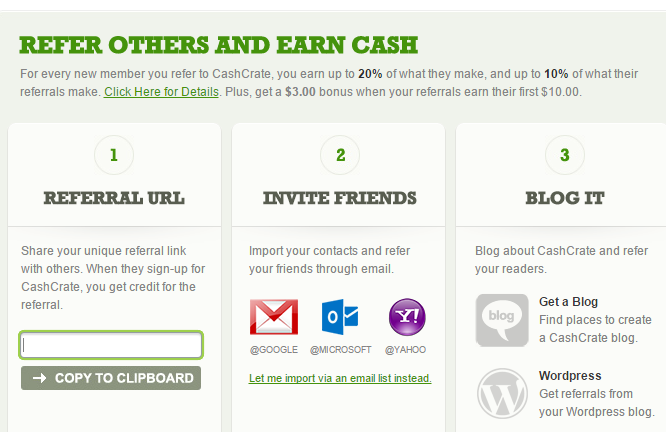 Support & Training
CashCrate has 2 tutorial videos, "Get Started" and the "Referral Program."
There is an interesting community with a forum, blog, contests, and even live contests. During the live contests there is a live chat that takes place.
Cool Things About Cash Crate
CashCrate is legit.
You can receive free samples.
Some of the surveys are fun.
Your earnings are shown in real-time.

The Referral Program.
Not So Cool Things About CashCrate
Some of the surveys, tasks, etc. seem tedious.
The first time you're paid, it must be by check.
Some payment methods are only allowed for U.S. residents.
It's not a dependable way to earn full-time income.
My #1 Recommendation Compared to CashCrate:
My Final Thoughts on Cash Crate

I'd appreciate it if you would leave a comment below and let me know what you think of CashCrate, or any similar company. Thanks!
Please Share if Content is Useful